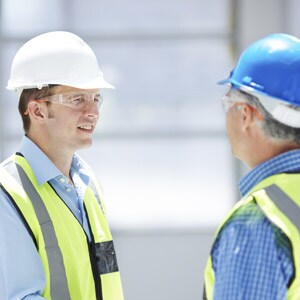 Working with family presents a unique set of challenges because, after all, it's two relationships bundled into one, and each has its own dynamic.
"In a healthy parent-child relationship, the parent listens to their child's concerns and complaints," says Stephanie Weiland Knarr, a licensed clinical marriage and family therapist in the Washington, DC area. "Likewise, in a healthy boss-employee or coworker relationship the same is also true."
Sounds simple, doesn't it? Not so fast.
"Working with Dad can be extremely fulfilling — or very damaging — depending upon the quality of the parent-child relationship," she explains. "It boils down to whether or not team members and family members can resolve typical problems and complaints that happen whenever people are working together."
Here are some tips from folks who have experienced the good, the bad and the ugly side of the family business— and survived. Follow their tips, and you can, too.
Father knows less?
The typical path to working with family is to join up with Mom or Dad once you enter the workforce. That doesn't always go smoothly when the younger generation brings a new set of ideas and skills to the table.
This can lead to tension. Kyle Therriault, vice president of Internet strategy and business development at Chicago-based Auto Accessories Garage, experienced that firsthand.
When it came to the online side of things, Therriault's dad wasn't exactly Bill Gates. "I still remember how proud he was when he showed me the first version of the website," the younger Therriault relates. "I took one look at it, shook my head, and said, 'Well, I better get involved.'"
After the initial old-versus-new tension subsided, the partnership strengthened as their complementary skill sets benefited the business. "One of our biggest strategic advantages is that we're able to mix my father's 'old guard' automotive after-market knowledge and business relationships, with my generation's understanding of the technology needed to drive a successful eCommerce experience."
Pro tip: Separate the loaded emotions of the father-son dynamic from the boss-employee relationship. "You can sometimes make a decision that might be influenced more by emotion than by analytics," Therriault admits. "It's very easy to fall into the familial patterns." Try not to.
Outside experience
David Povlitz founded Anago Cleaning Systems in 1989 to help other entrepreneurs open their own commercial cleaning businesses. "With all the technology we've implemented into our process, we're not really 'your father's cleaning company' anymore, even though technically we're my father's cleaning company," laughs Adam Povlitz, who took over as president of the Fort Lauderdale–based firm in 2015.
Povlitz began his career as a telemarketer and then worked for a janitorial franchisee before joining the family business. His father was relatively hands-off as his son worked through every level of the enterprise before ascending to the top. To keep things honest, Povlitz never directly reported to his father, and his performance was measured just like any other employee's.
Pro tip: Working outside the family business provides valuable experience plus the ability to see things from a different, fresher perspective. "If a child hasn't worked elsewhere, they can wind up with tunnel vision," Povlitz suggests.
Turning the tables
At the tender age of 16, Linda Parry, CEO of Product Launchers in Haverstraw, NY, knew that her family's hardware/electronics business wasn't for her. "Selling mousetraps, washing floors, counting nails? No thank you! I was headed for the Gap." Fifteen years later, Parry was running her own business, a fast-growing marketing and distribution company, and her recently retired father was working for her.
"My father was going crazy sitting at home," Parry recalls. So he was available when she needed help with her fulfillment center. "He now does the warehousing and fulfillment for our products and for our growing roster of clients."
Supervising her father hasn't been without its challenges. "The first week he had two orders that didn't arrive correctly. Try telling your 65-year-old father that he needs to pay more attention to detail! Well, I did. And he recognized his errors and we haven't had a wrong order shipped since."
Pro tip: Don't let potential conflicts fester. Parry may share genes and an entrepreneurial spirit with her father, but she knows you cannot ignore issues just because you're family. Her advice: "Attack them head on to avoid future problems."
Managing two relationships in one can be tricky, especially when your livelihood is involved, but it needn't lead to bankruptcy. Knarr reiterates, "The family relationship needs to be healthy and positive in order to have a successful business relationship follow."
Just make sure to get Dad an extra-nice tie this Father's Day.